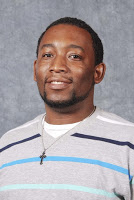 Chawan Jernigan, Simulation and Design
cjernigan@louisville.k12.ms.us
Mr. Jernigan is a 1997 honor graduate of Louisville High School. He has also completed three degree programs from Mississippi State University; a bachelor's degree in Business Information Systems (2001); a master's degree in Educational Technology (2003); an education specialist degree in Educational Technology (2015).
His work experience spans from computer technical support, banking and finance, Boy's and Girl's Club of Winston County staff and director, computer repair, and his current profession of teaching.
He lives in Louisville with his wife and three children.