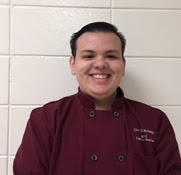 Chef Enoc Reynoso, Culinary Arts
ereynoso@louisville.k12.ms.us
Chef Enoc Reynoso is from Carthage. He is a graduate of East Central Community College. He holds an associate degree in Culinary Arts Technology and Hotel/Restaurant Management Technology. He plans to pursue his bachelor's degree in the coming years, furthering his education.
Chef has worked in various restaurants over the last five years, including Old Mexico of Philadelphia and Cracker Barrel Old Country Store.
He lives in Walnut Grove with his wife.